M3M Tee Point Commercial Project Sector 65 Gurgaon
M3M Tee point Sector 65 Gurgaon has been designed by UHA, a London-based, globally acknowledged architecture and design studio, which manages projects across the Americas, Asia, and Europe. The project has been designed by a London based dedicated and energetic team. The optimistic approach of the designers has made the project worth starting a business for the newbies in the field.
M3M Tee Point commercial project sector 65 Gurgaon is surrounded by a number of luxurious residential projects some which are from M3M team and some from other real estate developers. If you got an idea and have the zeal and confidence to take a bright step, M3M Tee Point golf course extension road Gurgaon is the best place for you. High visibility and well-furnished units that are air-conditioned and WI-FI enabled to attract a huge volume of potential clients for your business. Not only for business starters, is the place a lovely destination for shopping lovers.
Resale in M3M Tee Point brings an opportunity for the ones who are looking to start a business because the location of the project is just perfect. Huda city center, IFFCO Chowk, airport, and hospitals are all close to the complex plus the driving experience is also smoother. Availability of M3M Tee Point office spaces for lease is a benefit for the ones who can't buy the shops because of high pricing.
THE PERFECT TEE-OFF FOR YOUR BUSINESS
M3M Tee Point is dedicated to young and go-getter entrepreneurs who have the zeal to cultivate success. The project encompasses efficiently-appointed office spaces and finely carved retail areas. M3M Tee Point Retail Project is designed to exploit the captive markets of the surrounding posh residential areas like M3M's Golf Estate, M3M Latitude, M3M Merlin, M3M Polo Suites, M3M Panorama, M3M St. Andrews, Emaar Marbella, Ireo Uptown, and Ireo Victory Valley
Planning & Design Elements:
Carefully designed Site layout with dedicated Drop-off

Points

and entrance lobbies/areas for Retail Spaces, Office Spaces & Studio Apartments.
Magnificent Frontage of nearly 260 meters.
Low maintenance façade with large glazing and permanent finishes.
Elegant lighting design for façade and landscape to add to the ambiance.
Retail space on the ground and first floor
2nd floor onwards dedicated to office space/commercial units
Multiple access cores with Escalators, Elevators & Staircases(One dedicated Escalator in Block 1 & a Dedicated Elevator in Block 2)for providing a seamless shopping experience.
Richly Landscaped Promenade and Plazas with Exotic Water Bodies, landscaping, Sit-Outs, food kiosks etc.
Carefully designed and crafted finer elements like streetlamps, motifs, sit-outs, Kiosks etc. in the central promenade & Plazas.
Retail Units of a multitude of sizes, addressing size requirements for varied business needs, on both Ground and First Floor.
Multiple Entry & Exit

Points

with Boom Barriers For Retail Patrons & Office Goers.
6 Meter Wide Internal Driveway for Congestion Free Movement.
Ample Parking for free vehicular movement & Convenience to Patrons
KEY HIGHLIGHTS
A SMART BLEND OF RETAIL AND OFFICE SPACES.
A fabulous mix of office spaces, retail areas, and F & B. M3M Tee Point Sector 65 Golf Course Extension Road Gurugram is destined to be one of the key destinations of Gurgaon. It encompasses two blocks that are separated by a 24 m wide road, which will become one of the principal access roads to M3M's prestigious M3M Golf Estate among many other premium luxury projects.
Magnificent Frontage of nearly 260 meters
Low maintenance facade with large glazing and permanent finishes
Elegant lighting design for facade and landscape to add to the ambiance.
PROJECT OVERVIEW
Strategically located at the junction of a 60 m wide sector road and a 24 m wide major arterial road at Sector 65-66, near Golf Course Extension Road, the M3M Tee Point is surrounded by the city's most affluent upcoming residential developments.
15 minutes drive from IFFCO Chowk.
12 minutes drive from Huda City Centre.
25 minutes from IGI Airport.
10 minutes From Medanta Hospital.
Ideal Business Opportunity
A BUSINESS OPPORTUNITY YOU CAN'T AFFORD TO MISS!
M3M Tee Point's prime location, captive markets, affluent neighborhoods and a fabulous mix of office, retail and serviced apartments are sure to give handsome returns to smart investors.
Surrounded by the prime residential developments catering to affluent families with high disposable income.
Excellent connectivity through multiple interstate highways.
One stop solution for office and retail spaces.
Specifications
Retail:
Provision for Split ACs in the Retail Units with provision for placing the external units behind the Louvers.
Large Store Fronts & Gazing area for all retail units.
Arcade along all Retail units.
Provision for Cable TV & Fixed Line.
Dedicated Signage areas for all units as per design.
Internal Signage: Main Lobby equipped with Tenant Directory & Directional Signs
Fully Finished Common Toilets with Modern Fittings & Fixtures.
Office Spaces:
Split ACs provided in the Office Units. Ductable Split AC with ceiling hung Indoor unit & outdoor unit placed in the adjacent balcony.
Dedicated Drop off & Entrance Lobby for Office units.
Internal Signage: Main Lobby equipped with Tenant Directory & Directional Signs.
Provision for wet

points

in all the Units.
Provision for Cable TV, Optical Fibre connectivity & Fixed Line.
Lobby Finish: Combination of Stone and Painted surface.
Fully Finished Common Toilets with Modern Fittings & Fixtures.
High-Speed Elevator to ensure ease of circulation among all the floors.
Other Specifications:
Video Surveillance in Basement Parking, Basement & Ground Floor Lobbies and boom Barriers at Entry & Exit

Points

.
100% Power Back-Up.
Modern Fire Detection and Suppression Systems.
Service elevators
Multi-level parking
Floor Plan M3M Tee point Sector 65 Gurgaon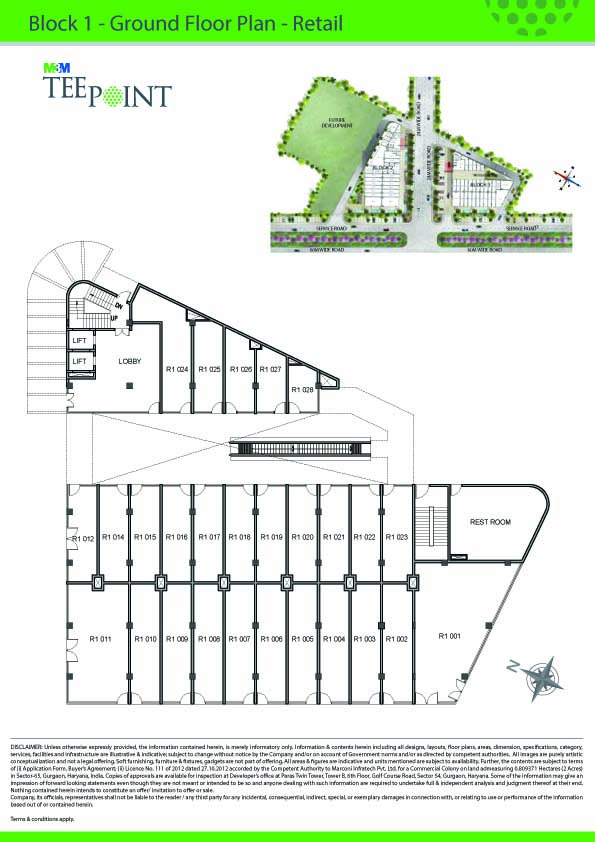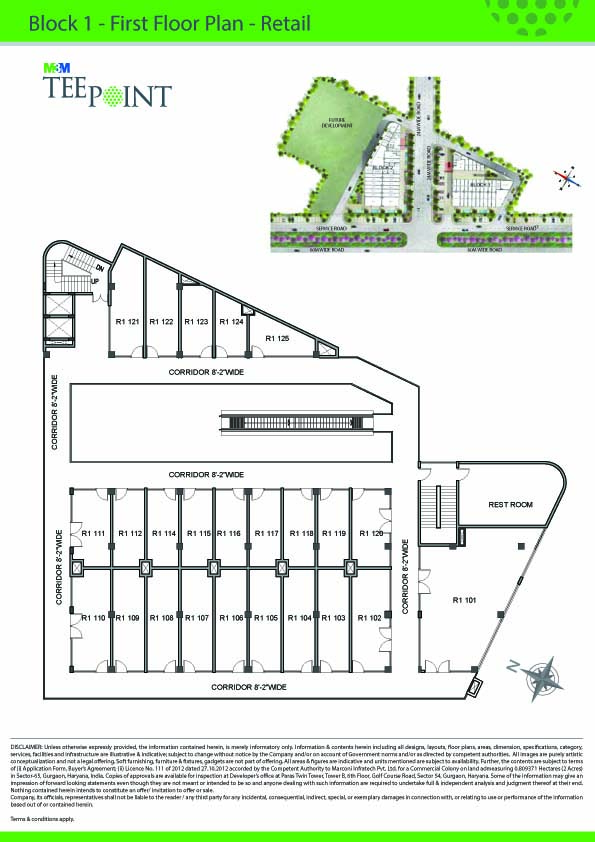 Location Map M3M Tee point Sector 65 Gurgaon