Paras Trinity Retail Shops Sector 63 Gurgaon
Paras Trinity is one of the best commercial projects in Gurgaon by Paras Buildtech. You're the reason why we constantly aim to better our best. The Paras Trinity – a commercial/Retail complex is a perfect example of this. Paras Trinity sector 63 near Golf Course Extension Road is the new hub of the commercial real estate in Gurgaon. Paras Trinity Retail Shops Sector 63 Gurgaon is an address that will change the face of your business and lifestyle.
Besides incorporating state-of-the-art office spaces, it will have known brands under its retail wing. Two floors solely dedicated to retail spaces, Paras Trinity Sector 63 Gurgaon is here to set a new trend in shopping by featuring some of the most renowned designer shops and studios, thereby, creating a new benchmark for the commercial real estate in Gurgaon.
Your Office now comes studded with the ultra modem amenities. Your business is set to witness new dimensions. Boasting of the rich landscape surrounding your workspace, Paras Trinity Gurgaon will make sure that you never wear out. Plush architecture with the state-of-the-art infrastructure will make it the most coveted commercial property in Gurgaon.
Project View Paras Trinity Sector 63 Gurgaon
Status – Delivered.

Type – Commercial.

The total land area of 2.14 acres.

A mix of retail and office spaces.

Walk to work concept.

Floor plate of 10,000 sq. ft. approx.

Designed by morphogenesis, one of the top architects in India.

Surrounded by huge high-end residences.

Integrated retail space up to 1 Lac sq. ft.
Specifications Paras Trinity Sector 63 Retail Shops
Retail Floors – Ground & First
Large storefronts and glazing areas for Retail Units
Arcade along with all retail units
Dedicated signage areas for all units as per design
Structure
RCC slab and column structure with masonry partitions
Escalators and staircases connecting retail levels.
Finishes
Exterior: Combination of glazed storefronts, windows, stone, and painted surface
Lobbies: Combination of stone and painted surface
Basement: Broom finish concrete
Tenant floor finish: Concrete floor
Common Toilets: Finished toilets with modern fittings and fixtures
Parking
Basement for parking and services. Adequate surface parking-
Provision of access control and Video Surveillance
Security
Video surveillance: Basement parking and basement & Ground floor lobbies
Manned security: Boom barrier at all vehicular entry & exit points
Life Safety
Wet Riser/Hose Reels/Sprinklers/Fire extinguishers: Provided as per norms
External Fire Hydrant: Provided as per norms
HVAC
AC Systems: Split AC units provision Ventilation and Exhaust: Provided for common toilets and basement
Electrical
Distribution: Provision of cable up to tenants distribution board
Metering: Tenant load will be metered
Lightning protection & Earthing Pits: Provided
Emergency Lighting: Emergency lighting in the selected common area
Diesel Generators
100% Power backup provided for lighting, power, and AC
Signage
Internal: Main lobby equipped with tenant directory and directional signs
External: External signage as per developers design and Conditions
OFFICE SPECIFICATIONS 
Paras Trinity Office Space Sector 63 Gurugram
Office Floors-Second to Seventh
Landscape terrace area on selected floors
Structure
RCC slab and column structure with masonry partitions
Passenger & service elevator and staircases connecting office levels
Landscape
Richly landscaped central plaza with paving and decorative features
Pedestrian plaza designed with seating areas and food kiosks
Dedicated drop-off zone and entrance for office
Finishes
Lobbies: Combination of stone and painted surface
Basement: Broom finish concrete
Tenant floor finish: Concrete floor
Common Toilets: Finished toilets with modern fittings and fixtures
Parking
Basement for parking and services. Adequate surface parking
Provision of access control and video surveillance
Security
Video surveillance: Basement parking and basement & ground floor lobbies
Manned security: Boom barrier at all vehicular entry & exit points
Life Safety
Wet Riser/Hose Reels/Sprinklers/Fire extinguishers: Provided as per norms
External Fire Hydrant: Provided as per norms
HVAC
AC Systems: Split AC units provision
Ventilation and Exhaust: Provided for common toilets and basement
Electrical
Distribution: Provision of cable up to tenants distribution board
Metering: Tenant load will be metered
Lightning protection & Earthing Pits: Provided
Emergency Lighting: Emergency lighting in the selected common area
Diesel Generators
100% Power backup provided for lighting, power, and AC
Signage
Internal: Main lobby equipped with tenant directory and directional signs
External: External signage as per developers design and Conditions
Floor Plans Paras Trinity Sector 63 Gurgaon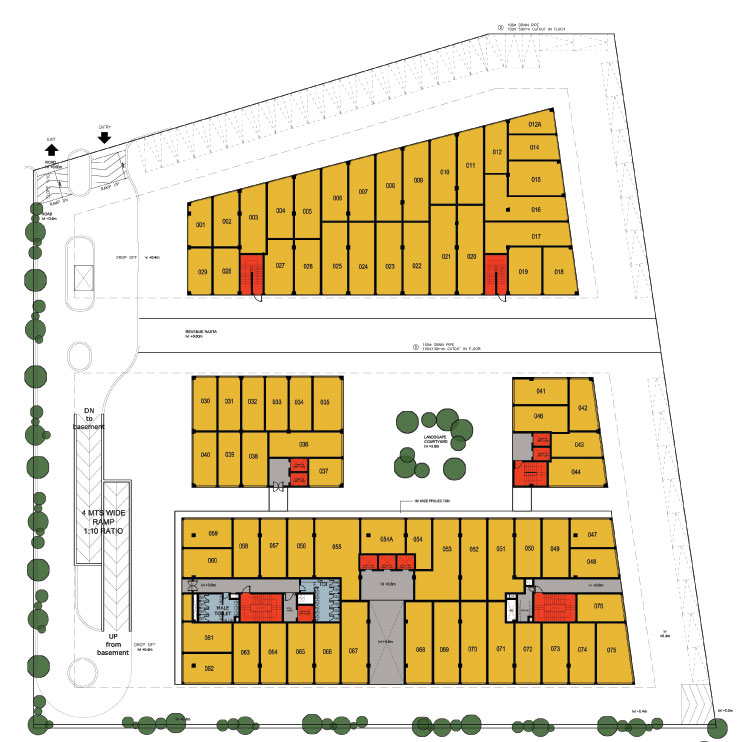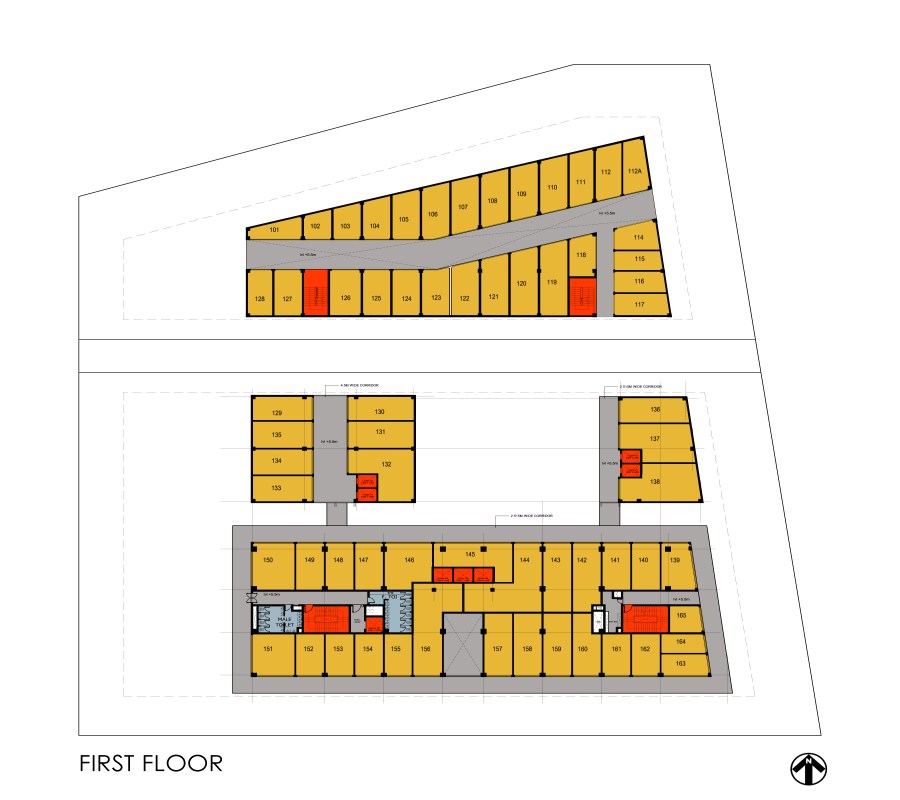 Location Map Paras Trinity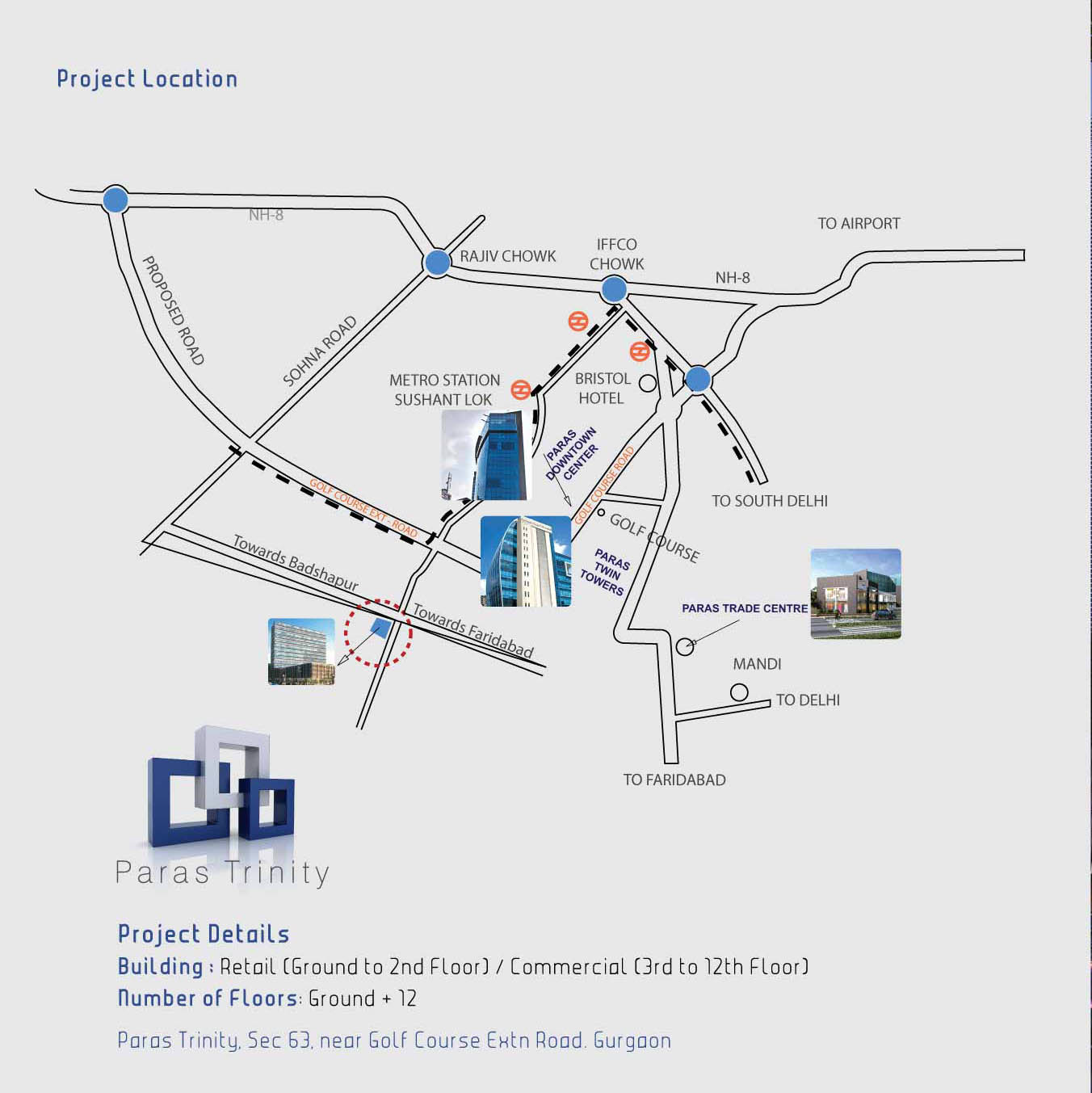 Search
Commercial Projects on extension road Gurgaon
Paras Trinity Commercial Project Sector 63
Paras Trinity Retail Shops and Office Space for Sale/Purchase 
Retail shops for Rent/Lease in Paras Trinity